Ensuring maximum comfort for patients during oocyte retrieval is of greatest importance to the success of the IVF procedure and a smooth recovery. That's why at Kitazato, we are committed to revolutionizing assisted reproduction treatments by incorporating state of the art technology into the design and production of our OPU needles. Our goal is to make the entire process more effective and less invasive, providing a higher level of comfort to patients.
High technology for a high performance
In oocyte retrieval procedures, success can hinge on various factors like needle dimensions, length, and tube design. Kitazato OPU Needles have a triple cut blade, continuous aspiration flow and unique design that provide a safe and efficient practice.
One of the key features of our OPU needles is their Thin Wall design, which provides the same inner diameter width for the aspiration in comparison with other brand thicker needles. This feature allows the oocyte retrieval to be carried out with a smaller gauge, while maintaining enough space to minimize trauma on the oocyte during aspiration and reducing bleeding for the patient. This combination greatly enhances patient comfort.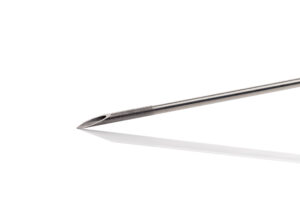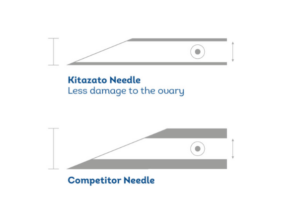 Here's why Kitazato's OPU needles are the preferred choice for both patients and fertility specialists:


Smooth echogenic marking to the tip of the needle: guarantees high ultrasound visibility and a safer approach to the follicle, while reducing resistance to the surrounding tissue, thanks to the marking to the very tip of the needle


Thin Wall Design: provides thinner needles maintaining the same inner diameter


Triple cut blade: ensures a clean and smooth puncture minimizing trauma and improves patient recovery after oocyte retrieval


Ergonomic handle with position marker: provides additional control throughout the oocyte pick-up and helps to control the position of the needle blade 
Kitazato OPU Needles are manufactured with different sizes, ranging from 16G to 21G. The thinner diameters of our OPU needles are ideal for patients undergoing natural cycles or for working without anesthesia during the ovarian puncture. If you'd like to know in depth the characteristics of our needles, we invite you to read the following catalogue.
The comfort of IVF patients during oocyte retrieval is not something to be taken lightly. At Kitazato, we are dedicated to enhancing the comfort and effectiveness of assisted reproduction procedures through the latest technology. We are proud to offer oocyte retrieval needles that ensure a smoother, more comfortable and safer IVF journey for all the patients.